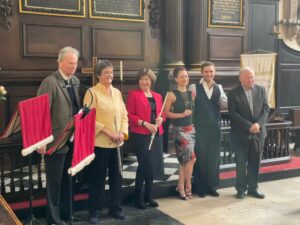 Jane and Cressida, The Tooting Broads, together with pianist Norman MacSween, were delighted to see so many of you, in person and online, at our concert for St Valentine Day. The whole world seems to have changed since then, but we wanted to thank you all for your interest and share some photos – kindly taken by someone in our audience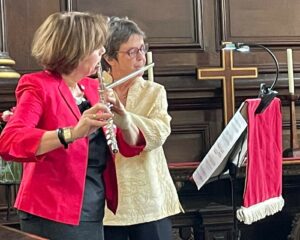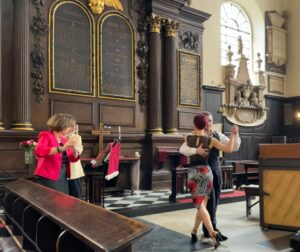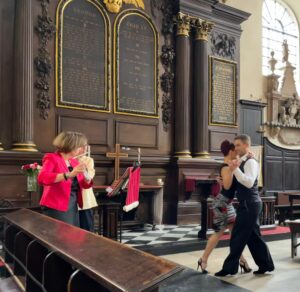 After a few initial IT glitches – due in no small part to a Windows update the night before – all went smoothly.  Huge thanks to the church's Admin team.
The Valentine's Day icing on the cake was of course the wonderful tangos danced by Anna-Lou and Yvan who charmed us with their romantic improvisation of flute duets by Astor Piazzolla
We had so many warm wishes and lovely comments from our virtual global audience about the concert, and also the wonderful Wren building of St Mary Abchurch with its glorious Grinling Gibbons carvings.  Should you wish to visit, the volunteers of the The Friends of the City Churches assure you of a warm welcome and stories about its fascinating history. Meanwhile, if you would like to donate to FCC please click here
The Tooting Broads are planning another concert later in the year, so please join our mailing list to be sure of an update
Meanwhile The Tooting Broads continue to play for birthdays and anniversaries, receptions, weddings – every type of celebration. Contact us and let us know how we can make your event special! We really can!!