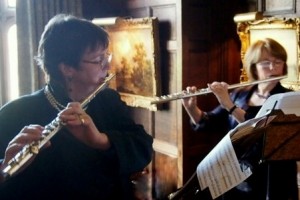 Are you planning a special birthday lunch or an anniversary dinner?
The Tooting Broads will delight your guests with gorgeous flute duets – perhaps an arrangement of your favourite music? Our playing will certainly break the ice at your party!
As we don't need microphones, we can play just about anywhere – outside or inside – in houses, hotels, halls, marquees, gardens….And we can advise you on the best spot from which to play so you and your guests hear the best sound for your special event.
See how our flute duets have created happy memories for our clients:
 "…to sit in our home listening to Jane and Cressida (some Broads!) was just so lovely.
The music was so calming – it imbued the house in the most beautiful way.  Thank you….. it was a real treat for us. " Edward – Bath
"Thank you Jane and Cressida so much for playing to us at our celebratory lunch …
You played so beautifully and made the whole day complete and very special.  We cannot thank you enough"  Tim & Jacky – Hever Castle
….and remember, we don't need amplification, staging or an audio licence, so there are no restrictions to your choice of venue.
Contact The Tooting Broads and let's see how we can make your event truly special.
Ideas for flute music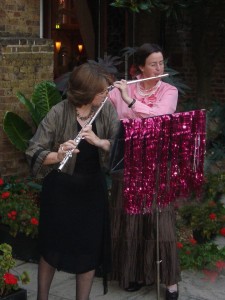 Live music playing to welcome your guests
During lunch or dinner
Between speeches
During afternoon tea
A special recital for your guests
Happy birthday!
Create your own programme with your own special music!!

Music ideas
Donizetti – La Fille du Regiment extracts
Elgar – Salut d'Amour
Gershwin – Summertime
Gilbert & Sullivan – various
Mozart  – Don Giovanni, Magic Flute, Marriage of Figaro – extracts
Plaisir d'Amour
Puccini – Rigoletto – extracts
Rogers & Hammerstein – Oklahoma, The Sound of Music – extracts
Singin' in the Rain – extracts
Verdi – La Traviata – extracts
etc etc!
"Gorgeous! You make such a remarkable sound"  Rodney & Janet (Dorking)